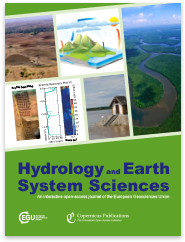 eISSN: HESS
1607-7938
, HESSD
1812-2116
Hydrology and Earth System Sciences (HESS) is a not-for-profit international two-stage open-access journal for the publication of original research in hydrology. HESS encourages and supports fundamental and applied research that advances the understanding of hydrological systems, their role in providing water for ecosystems and society, and the role of the water cycle in the functioning of the Earth system. A multi-disciplinary approach is encouraged that broadens the hydrological perspective and the advancement of hydrological science through integration with other cognate sciences and cross-fertilization across disciplinary boundaries.
















Notice on current restrictions
To show our support for Ukraine and in accordance with current European sanctions, we have introduced a range of measures relevant to our open-access publications process.
All fees for papers from authors (first, corresponding, or contact authors) affiliated to Ukrainian institutions are automatically waived, regardless of if these papers are co-authored by scientists affiliated to Russian and/or Belarusian institutions. The only exception to the waiver for Ukrainian authors will be if the corresponding or contact authors are from a Russian and/or Belarusian institution, in that case the APCs are not waived.
Due to restrictions for authors from Russian and Belarusian institutions that are necessary to comply with European sanctions, we recommend any authors from institutions in these countries to contact us on editorial@copernicus.org for more information.